Alabama Family Rights Association
---
Equal Parents' Week (EPW)
---
Equal Parents' Week (EPW) is a commemoration nationally sponsored by the Children's Rights Council that will occur July 26 through August 1, 1999. The national message of EPW is "The Best Parent is Both Parents." EPW advocates that the right of both parents to function as a parent, the right of children to be raised and nurtured by both parents, and the right of families to exist and function as a family, are civil and human rights inherent and inalienable to all families. Fathers, second wives, grandparents, and children in Alabama, including Lee County and many other persons elsewhere in Alabama and around the nation will commemorate EPW by holding candlelight and home vigils (scheduled for July 28th at 8:30 PM), by displaying purple ribbons (to indicate equality, responsibility, and values), by sending out press releases to newspapers, and by holding peaceful demonstrations.
EPW follows National Parents Day in furtherance of their mutual objectives to strengthen the role parents play in children's lives and advocating family values. EPW is a major initiative aimed to help increase awareness around the country that children need two parents, even after divorce. The present legal system disproportionately favors women in child custody awards. This is a major contributor to fatherlessness, welfare problems, and severe adolescent social and behavioral problems.
In Huntsville, AFRA's candlelight vigil and reading will take place at Big Spring Park, to be held on Wednesday, July 28, 1999 at 8:30 p.m. as required. AFRA held it in Big Spring Park last year too. Call 256-881-1190 for additional information.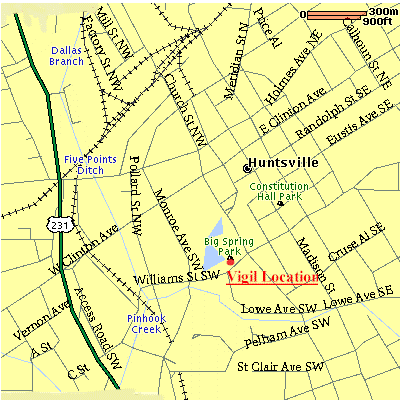 Members of the Alabama Family Rights Association are planning a peaceful demonstration in front of the Lee County Justice Center, located at 2311 Hamilton Rd, Opelika, AL, on Tuesday July 27th to publicly commemorate EPW and promote the message that "Children Need Both Parents. Call 334-826-1832 for additional information.
---
---
No legal advice is given on this Webpage and/or Website. In accordance with Title 17 U.S.C. section 107, this material is distributed without profit or payment to those who have expressed a prior interest in receiving this information for non-profit research and educational purposes only.
This Website is sponsored by the Alabama Family Rights Association (AFRA).
For website information, changes, or updates, please send comments via

to ALfra@rocketmail.com.
| | |
| --- | --- |
| Let Us Create A Website for Your Business! We're Fast, Efficient, and Effective! | |