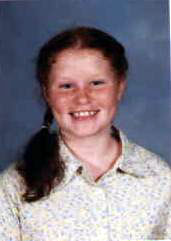 MY DAD AND ME
Me and my dad are best buds. We like to do lots of things together. Both of us like sports. I like badmitton aand soccer and my dad likes baseball. Even if we don't like what we have to play or do, we do it anyway because we love each other. I'm very proud of my dad for what he does for me and my big sister. I love him, and I think he's a great dad!
Hannah Weiss Age 10
THE BRIGHT SIDE OF DIVORCE
Divorce is hard, there is no denying it. It is an unhappy thing for children to see their parents fighting. You might wish that your parents were together, but think about it. There would be chaos and arguing. There would not be much joyfullness either, but divorce is going to happen, so you had best look on the bright side of things, and that is exactly what I am going to do! First there is my Dad. We have great times together! He helps me out with playing badminton and baseball (good thing, too, because otherwise I would be TERRIBLE!). Dad also helps me with reading and writing by taking me to the library and informing me about essays (like this one) so I will be able to write well. All in all, he is a great father! Then, there is my Mom. She is great with helping me learn what she knows of sewing. She understands most of my problems, too. She loves drama and helped me learn acting (which I have always LOVED from the start!) All in all, she too, is a great parent! So even though your parents may fight, remember this- no one is perfect; not even adults! Divorce is hard, but the end is much brighter. So, once you learn to deal with divorce, you can keep on loving two of the people you love most- your parents.
Thanks, Emily Weiss